Tempe, Arizona's Best Free Mobile Auto Glass Replacement Shop
Tempe Auto Glass Shop
(Get Up To $450 Cash Back For Any Insurance Approved Windshield Replacement)
We offer mobile auto glass replacements in the city of Tempe. 1st Shot Auto Glass is based in the Phoenix East Valley's suburbs. There is a lot of auto glass competition generally in the Phoenix Metropolitan area, but we will stand out from the rest! Our free mobile auto glass services, affordable auto glass prices, high quality installations, and lifetime warranties will have you coming back to us every time.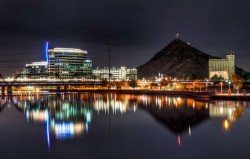 Our free mobile auto glass replacement services are the best in Arizona. Just ask any of our auto glass replacement technicians. If you have full glass coverage on your insurance policy, or the "glass waiver," then there would be nothing out of pocket at all for your auto glass replacement needs. If you have a deductible, then give us a call and see if we can waive some or all of it for you. We also offer multiple discounts for seniors, civil servants, and military/veterans for our cash paying customers. We are Tempe's auto glass replacement choice servicing all of Tempe's zip codes in 85281, 85282, 85283, and 85284.
We are founding members of the Maricopa County Chamber Of Commerce.
(480) 233-9368
Family Owned & Operated